Rare 'Maracana' Brazilian Jacaranda Side Table by Guiseppe Scapinelli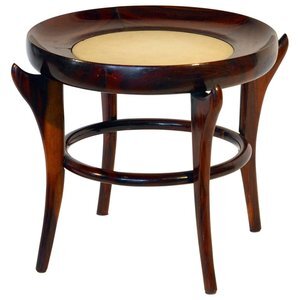 Rare 'Maracana' Brazilian Jacaranda Side Table by Guiseppe Scapinelli
Rare 'Maracana' Brazilian Jacaranda Side Table by Guiseppe Scapinelli. Stamped 45.
Scapinelli, a designer of Italian origin, born in 1891, was both a furniture maker and retailer in 1950s-1960s in São Paulo.
His style is easily recognizable because of the curvy lines and soft shapes, inspired by the Italian design of the 1940s, a departure from the mainstream designs of his fellow retailers.
His pieces are beautifully crafted in Brazilian traditional wood.
He designed and produced many unique pieces for distinctive São Paulo homes. Scapinelli died in 1982.

This table is in beautiful original condition, with the original marble intact.
H 18 in. x Diam 23 in.